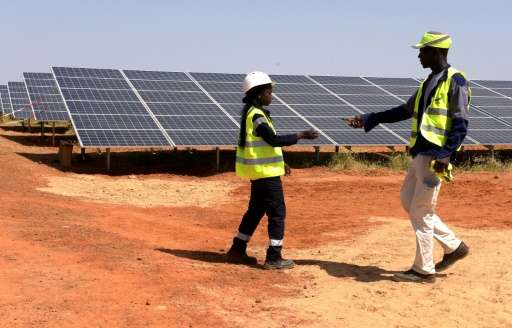 Greenzone Energy Solutions provides sustainable energy solutions, at competitive prices to our clients globally. Greenzone Energy Solutions was founded with the bold mission of fostering sustainable development and creating better and cleaner earth for future generations. We intend to achieve this by bringing a renewable form of energy to millions of people despite their location.
Our entrance in the industry is targeted to meet the renewable energy needs of communities, industries, and households across Africa, who we seek to gain their trust by delivering solutions of value. Our partnership with globally recognized manufactures in solar photovoltaic and battery storage solutions allows us to deliver exceptional quality with market-leading cost structures. Our projects continually meet with customer's needs as we aim to deliver exceptional solutions within budget.


Vision
Our vision to become a force to be reckoned as a turnkey energy solutions provider. We aim to provide renewable energy solutions to millions of customers across Africa, helping to meet their clean, green energy needs. It is our vision to ensure that we meet the energy needs of millions of households across the globe within the next five years, and every day we strive to make sure that this laudable goal becomes a reality.
Solar Energy
Photovoltaic power is proving to be one of the fastest-growing segments of the global renewable power generation in the world. The energy industry has witnessed a continual boom, with more companies seeking a share of the market. According to the African Development Bank, over 640 million Africans have no access to energy, corresponding to an electricity access rate for African countries at just over 40 per cent, the lowest in the world. With this blurry report staring us in the face, we seek to help residential, commercial, and government stakeholder meet their energy needs.
Corporate
Keying into the benefits that renewable energy sources offer is one of the ways your company can pursue sustainability efforts and meet the needs of your customers. It is an economically viable way to meet targets if yours is a company highly dependent on energy to run its production and reducing the cost of production due to energy price volatility from other energy sources. Over the years we have supplied systems for a wide range of clients.
Community
We can use the advantage of economies of scale in creating community-based solar solutions on a large scale. With the adverse effects of global climate change staring us in the face, our renewable energy development is playing key roles in providing a safe environment for all and sundry. These community solar solutions will provide renewable power to rural and urban communities at large.
Residential
Our products also provide energy solutions to residential buildings, helping our customers afford 24 hours uninterrupted powers supply.
Services
Check our Services
Location:
6375, Dr. Aggrey Road Industrial Area Kitwe, Copperbelt Province, Zambia,10101
Email:
contact@lembagroup.com
Call:
+260 760580490, +61 424655297
Around the globe
Related News